Granville Health System Celebrates "National Volunteer Week" with "The Change Makers" Banquet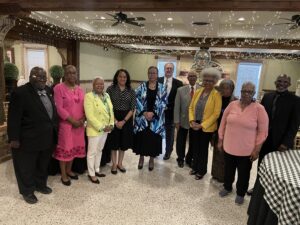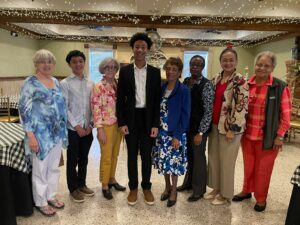 Recognizes Efforts and Impact of Volunteers and Chaplains to GHS Patients and Granville County Community
As part of "National Volunteer Week" (April 17-23), Granville Health System (GHS) hosted a special Volunteer Services Banquet on April 18, entitled "The Change Makers," to pay tribute to all of the hospital's volunteer personnel.
The Volunteer Services Banquet was held at 5:00 PM at Thorndale Oaks in Oxford. GHS Interim CEO Adam McConnell, GHS Board Chair David Smith and GHS Board Vice-Chair Tony Cozart and many other special guests gathered to recognize the selfless efforts of GHS volunteers and chaplains who serve the Granville County community.
During the GHS fiscal year period from Oct. 2021 through Sep. 2022, community volunteers provided countless hours of service to Granville Health System, which included:
People Greeted: 25,566
People provided wheelchair assistance: 370
Appointments: 19,405
Directions/General Information Provided: 286
"We are so very happy to express our appreciation to all of our volunteers for their dedication to helping us serve the needs of our visitors, patients and their families at Granville Health System," said Adam McConnell, Interim CEO, Granville Health System. "It is through the countless hours of selfless devotion and caring for others that unite Granville Health System and Granville County in a mission to promote community wellness. We are grateful for the work of all our volunteers and are proud to acknowledge them as we celebrate National Volunteers Week."
The week-long "National Volunteers Week" in April recognizes the vital support that millions of volunteers in the United States provide to their communities and encourages people to consider volunteering.
About Granville Health System
For more than 100 years, Granville Health System has been delivering quality health care close to home. To meet the growing needs of its community, Granville Health System has expanded its services throughout Granville County, offering convenient access to medical care where its citizens work and live. The GHS main campus is located at 1010 College Street, Oxford, North Carolina. For more information about Granville Health System visit GHS online at www.ghsHospital.org.
Volunteers [Pictured Left to Right]:
Judy Englebright
Ceasar Azuara
Annette Myers
Parker Hall
Marie Liles
Darlene Royster
Dawn Marie Omokunde
Deloris Mangum
Chaplains [Pictured Left to Right]
Omotolokun Omokunde
Jo Anne Fields
Gloria Jones
Renita Timberlake
Linda Thornton
Wayne Clark
Bishop Richard Williams
Brenda Williamson
Mary Crispell
Pat Bass
Curtis Durham
Not pictured – Leroy Anderson
Not pictured – David Sneed